The alarm blipped at 4 a.m. this past Saturday and I was happy to hear it sing. I rose and left the house quietly as to not wake the three pre-teen girls who slept in the living room as a post birthday party celebration of my daughter's 10th. They had been fairly loud the evening and into the depth of the night before so I am going to estimate that I had gotten, at most, 3 hours of shuteye. I wasn't bothered much by this as I was headed out to fish with a friend that I've been acquainted with for some time but whom I've never had the opportunity to fish with. In fact, we had never met in person. I should also note that he is a hell of a fisherman. Now being a "hell of a fisherman" is by no means a prerequisite for me to want to fish with someone but it certainly doesn't hurt things. I was looking forward to it to say the least.
After I had slurped down a cup of Mobil's finest sludge and a granola bar, I met Mike on the reservoir at about 5. The sun was still just barely out of hibernation as we loaded a dry land bobsled of sorts of my partners finest gear; a few 10 and 12 foot noodle rods with bait feeder reels attached, a couple of jigging outfits for Lake trout and a curious collection of lead core setups. The loading of the gear was coupled with pleasant conversation but I knew that I was now a part of a tactical operation. We were catching fish.
We decided to row for a bit to an area that both of us had previous success at. Once we were satisfied with our location, we dropped a couple of sawbellies down. We chatted about our families and shared some pictures of them on the cell phones. A warmth appeared in the boatman's words when he spoke of his. I appreciated that. So often when men talk about marriage and raising kids with each other there are too many of a couple of things; complaints or bad jokes. With Mike, I got neither. I got the sense that this guy was a hell of a husband and father. Again, not a prerequisite but it don't hurt.
Bang, the first hit came and it came on hard. The baitfeeder ripped and Mike asked me to handle it. We both hoped for a Brown. I wasn't sure. It bounced down a few times on the run and then raked sideways just like the finicky speckled Trout. After a short battle and a long hold of my breath it was a nice fat...Small Mouth Bass. Ok, I thought, I'll take it to wash off the skunk from the last two outings. We both agreed it was a good omen that a fish was on within minutes of dropping.
Boom, another hit, another Bass. And again soon after. That was three Smallies in a row.
You've got to handle the next hit, I told him. Enough is enough.
It should be understood that Mike is somewhat of a Brown Trout magnet these past couple of seasons. Don't get me wrong, he works his tail off for his success and has his butt on a boat seat for more hours than you and I combined but the man can catch some Trout. He is very humble about his success and I give him a lot of credit for that. I'd be writing books. (Says the guy who writes lengthy blog posts about NOT catching fish!)
It surprised me to learn that with all of my cohorts success, he has yet to net a Brown out of Kensico. Mike has a few boats on a few different reservoirs and Kensico is a good 45 minute trek for him so I believe it to be his least fished body of water.
Anyhow, after asking him to handle the next hit, he did. And he boated his first Brown Trout. Now, I don't call myself a mathematician but if we got 4 hits and 4 fish and I took three Bass out of the four hits into the boat and Mike took the Brown, wouldn't that equate to me being a lousy Trout fisherman? But I digress...
Soon after, I hit a nice Laker on the jig which, in itself, is bounds of fun. We would mark a fish at a certain depth and then send the jig down while we watched it on the fish finder. Right at the same depth we'd close the bail and start the jig. Bounce, bounce, reel. Bounce, bounce, reel. WHAM! It was both invigorating and hilarious at once. Two grown men giggling like the girls at the previous nights slumber party as we watched and waited while the Trout played cat and mouse with the jigs. This is an exciting way to fish, folks. You need to get out there and do it. You won't be disappointed. At one point I was awarded the assist for jigging a Laker off of a 90 foot floor as I got him to chase the jig up to 20 feet where it found Mike's bait hanging on the bait feeder. He nailed it from there and we giggled some more.
For the last leg of our morning trip we decided to pull up the bait and focus on the jigging. While singing some "Travelling Wilbury" tunes, we each boated a few more Lake Trout and I decided to keep one for the table which I ate for a late night Father's Day dinner. We never did get to the lead core setups so my curiosity will have to hold for now...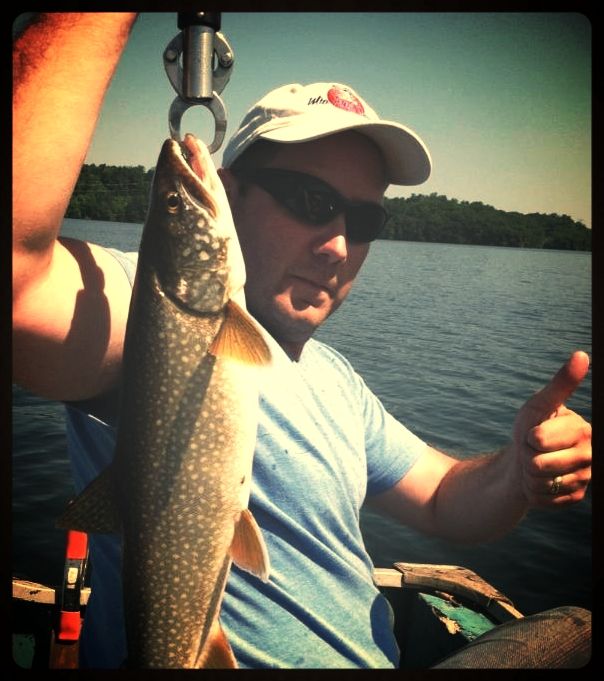 In the end the "Two Mikes" didn't catch any monsters out there but we did manage a heck of a lot of action. I will say that I had a great day of fishing with a new friend who I admire for more reasons than just being a hell of a fisherman. But let's face it folks, that certainly doesn't hurt things.
And, if you care to know, I had an amazing Father's Day...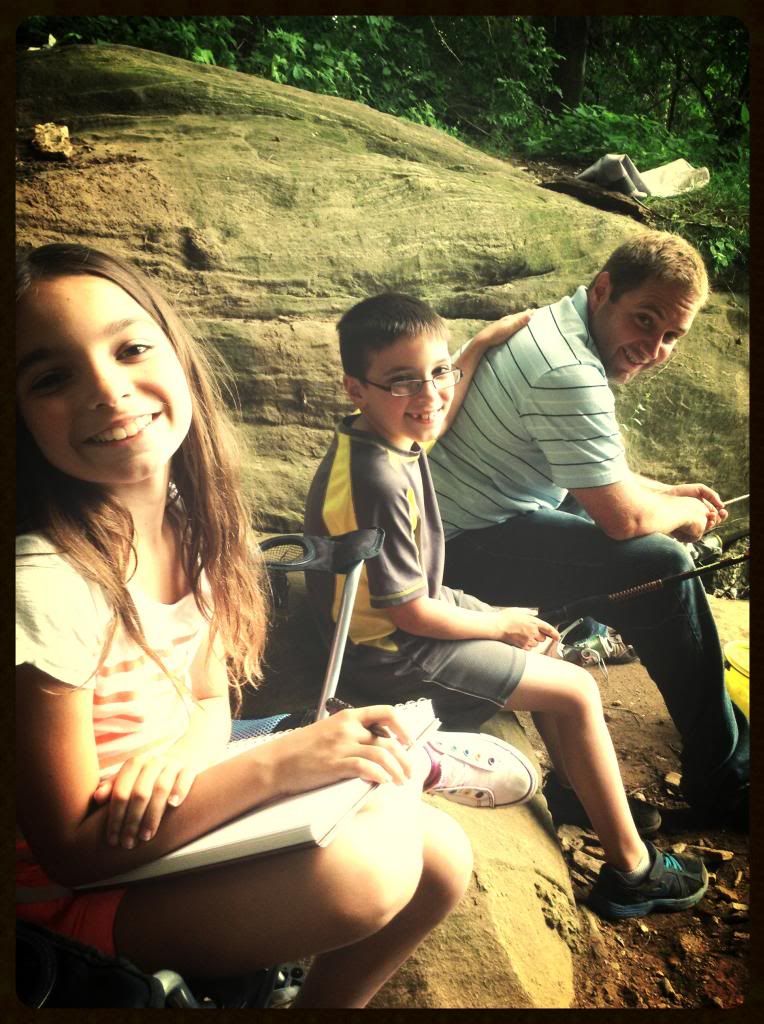 I hope you all did as well...
Tight lines,
Mike