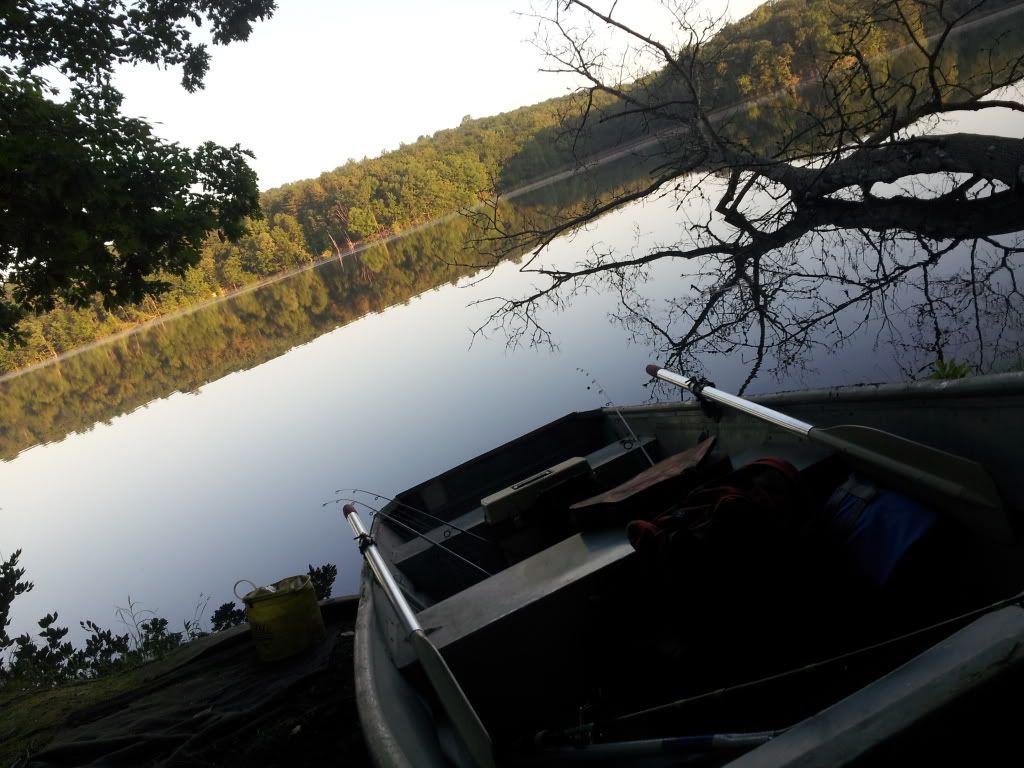 For those of you who may remember Pepe Le Pew, you will know immediately what I am referring to; the charming, ever romantic, cartoon skunk who mistook a black female cat with an accidental white stripe painted down her back for his target of affection. Well, I am pretty sure that I am presently playing the role of said female cat. Yup, I've been skunked.
Two outings in a row to be exact. 12 hours of seat time on the Jon Boat but, hey, who's counting?
I've been focusing on the reservoir, and Brown Trout in particular, these past two outings both out of desire as well as necessity. The streams have been inundated with three torrential and long lasting rainstorms in the past two weeks alone. It is a substantial blessing for these waters but it does take the fly rod out of one's hands. I am thankful for the rain as well as the easily made decisions as to what waters to fish when my feet hit the floor at the ungodly hour that they do on a fishing day. Usually it is a torturous and long decision for me that has been lately swiftly and thoughtlessly made.
With Bait at the ready each of the past two outings and armed with three Okuma baitfeeder fishing reels as well as my Pflueger spinning rod for casting, I felt pretty confident that I would find the elusive Kensico Browns that I have been hoping for.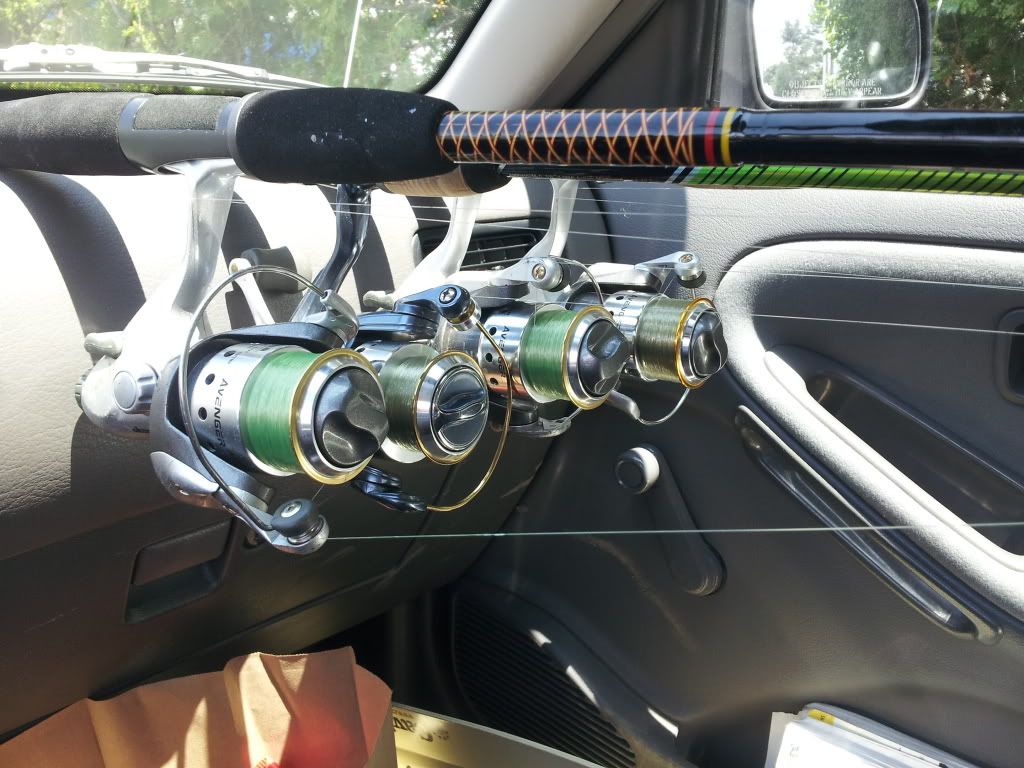 I have been fishing, generally speaking, over 60 to 90 feet of water and I've had Sawbellies set up at depths of anywhere between 15 and 30 feet as well as one on the top water on a long line out and away from the boat. The first skunking came on a rainy morning and one that felt like a "fishy" morning. That day I marked almost zero fish anywhere in the water column and I did not get any strikes at all. It was an odd experience to say the least but I do realize that these things happen. The day was a "wash" in more ways than one. "No big deal", I thought. "I'll get 'em next time."
"Next time" happened to be yesterday; a perfectly calm Sunday morning with no wind gusts and warm temps. There were schools of Sawbellies swarming the top of the golden sun swept water as I launched at 5:30 or so. I rowed at a nice even pace to the deeper waters, having had my setups all ready to go. I marked fish almost immediately this trip and I marked them fairly consistently.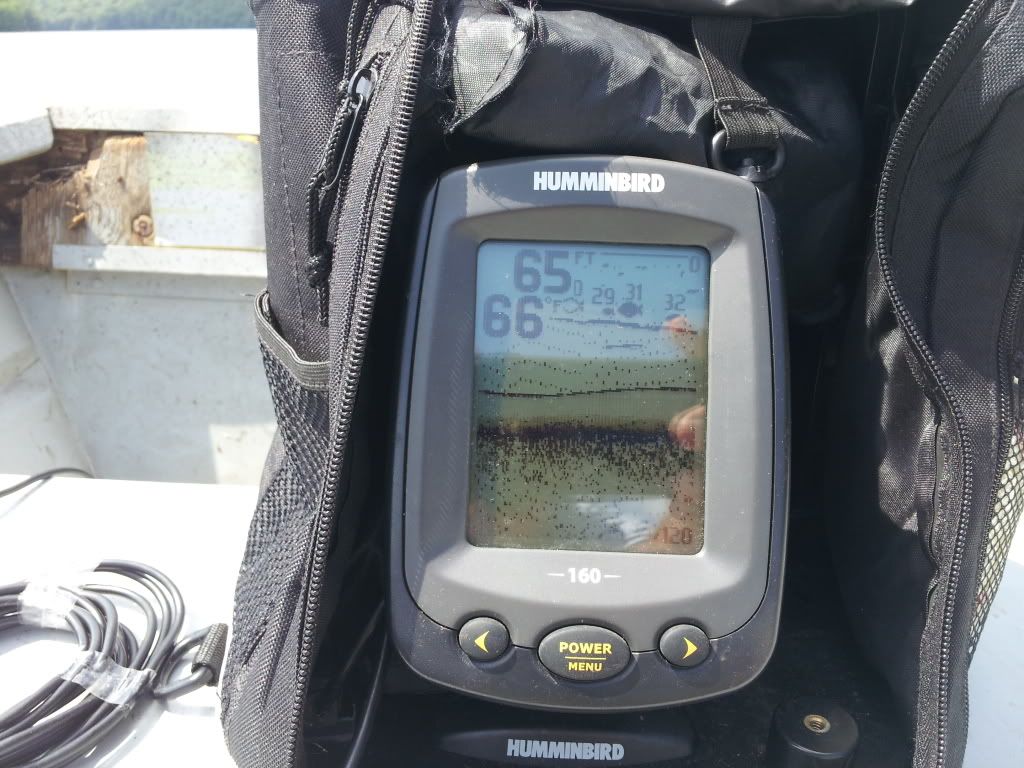 I had only three hits in 6 hours and each of the three were on and off too quickly for me to figure out why. Well, I do know that I rushed the first one at 20 feet down and the second one ripped at the bait on the top water so quickly that I was left with a "birds nest" on the reel and the fish was off. I don't recall the third hit but I do recall that 0 for 3 feeling I'd had at times as a kid playing ball. Just wished I had one more at bat but the innings had been spent and it was time to go home. The Browns had "no hit" me twice in a row. In June. I can't recall getting shut down in June once before, let alone on two consecutive outings. Oof.
My new pal Pepe sat on the bow of the boat singing to me in a cartoon French accent as I took the long, arduous row back yesterday. I've got to get this white stripe off of my back soon so that he realizes I'm no skunk, damn it! Go spread your love somewhere else Monsieur Looney Toon!
Until next time, tight lines to all.