I am a fortunate guy.
Within a twenty mile radius of my home I have what I consider to be world class fishing. I can be at the fabled Kensico Reservoir (fabled due to it's damming of water up over the old town of Kensico back in 1915) within 5 minutes depending on the excitement in my legs as forced through the accelerator. I can also be on a stream within twenty minutes should I use the same method of trumping the speed limit. For the record, I rarely do but that's not to say I don't.
About a week or so ago, I stopped into the Bedford Sportsman (www.bedfordsportsman.com) and picked up a couple of leaders and replenished a couple of flies. Early in the spring I had lost a monster on the East Branch of the Croton Reservoir on a nymph that looked like a cross between a Copper John and a Prince Nymph. I lost two of those flies that day and had been thinking about them ever since. We have had a tremendous amount of rain here in NY recently, so I figured it wouldn't hurt to arm myself with a couple of these unique bottom bouncers. I had a small chance for another "Tweener" in which I had the occasion to cross Route 35 on my way back to work which, in turn, meant I had to cross the Amawalk River. My car made a sharp left onto Wood Street and my waders and rod were in hand in what felt like seconds. I had a half an hour and I made a b-line to a spot that I thought might produce in higher water. It had produced for me before in the way of some small wild Brown Trout back in the spring. I hoped for a repeat.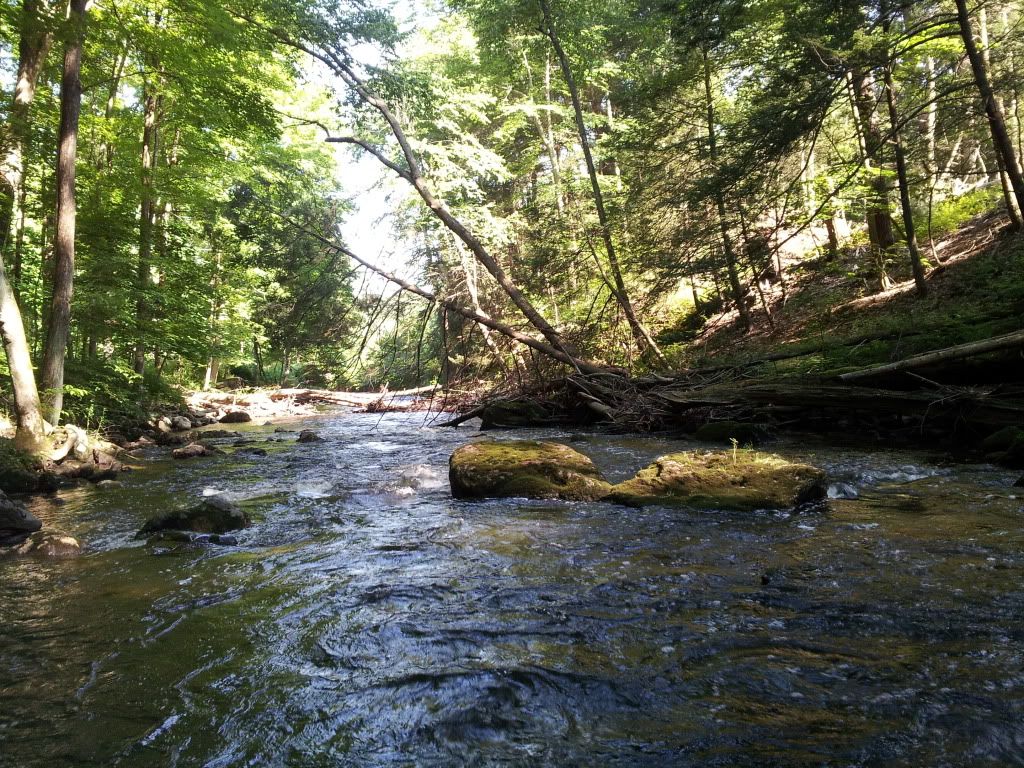 I did get a repeat in the "wild" department but not so much in the "small" department. I fished a tight pocket and swung said nymph in front of a slab of boulder (I mean, I might have even bounced the damn thing off the rock and into the water) and just as it was about to hit a swirl into the next run, the indicator sucked down into the depths. Fish on! What came to hand after an awesome up-current battle was one of the most beautiful trout I have ever seen.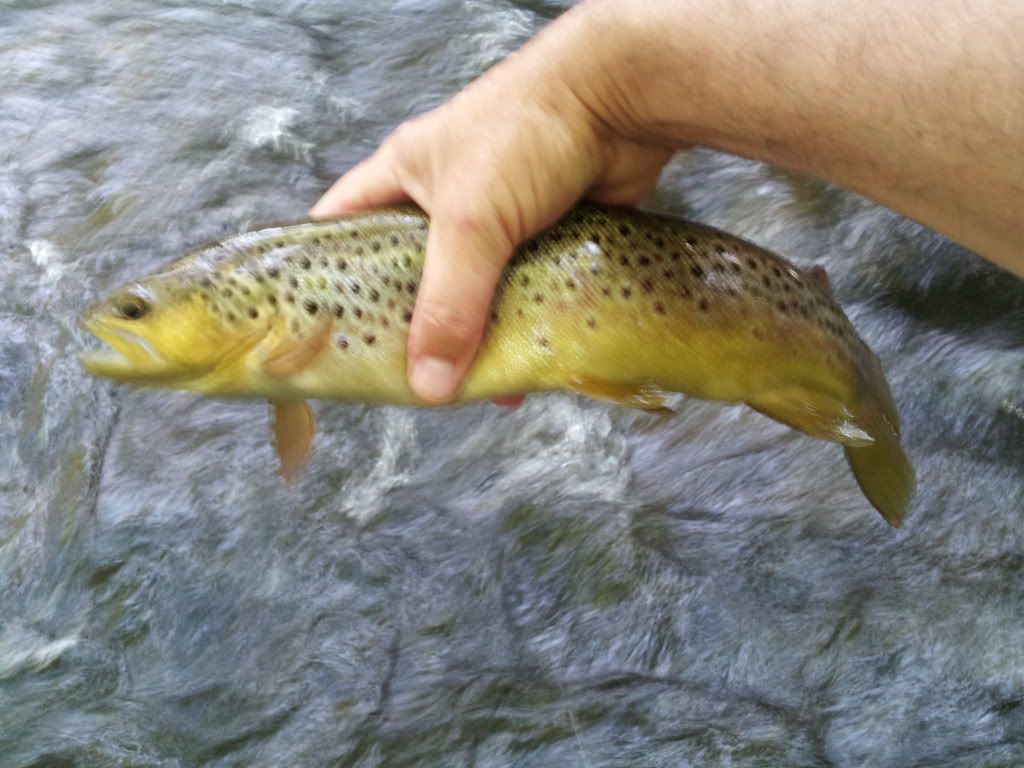 This speckled sensation with it's golden hue put a big grin on my mug. I released it safely as she darted off and I darted back up Wood Street and back to work with time to spare. A rarity on so many levels.
With a fortunate thunderstorm on Monday evening, I woke Tuesday morning with a clear decision to fish the Kensico. I say fortunate because anytime a fishing decision is made for me due to weather it is just that; fortunate. Otherwise, I spend time on one body of water wondering how the other body of water is fishing. A disease I know full well that I share with at least some of you.
My pursuit of a generous sized reservoir Brown Trout has been the fodder of many late night meanderings of the mind. I have read, talked, asked, read some more, talked and asked some more about these elusive fish for more hours than I can equate. Not to mention the time I have actually put in on my bony rearend on the seat of a jon boat. That is not to say that I haven't enjoyed those hours. I most certainly have. I have even caught a bunch of fish in those hours...just not the spotted, big bellied beauties that I have seen and heard so much about.
Armed with Baitfeeder reels and a busted up old plastic bucket of Sawbellies, I hit the water at about 6:30 AM. After hooking and releasing a smallish Laker, I decided that I would row about a half an hour away to a spot that always seems to produce for me and that I now know holds some Browns. Well, you all know how those half an hour rows go, don't you? Within the first five minutes the wind picked up and attempted to blow me back from whence I came. Now I was born with an Irish temper and a bit of Italian stubbornness to boot. Both of those wonderful genetic features kept me at it. I'll be damned if I don't get there.
About forty five minutes to an hour later, I was precisely where I wanted to be. The wind disappeared as if it were rewarding me for my efforts. Nature, as you know, has a way of rewarding us at times. This feature of the unknown temperaments of the Great Mother is another reason that we find ourselves doing what we do. It adds a bit more glow to the rewards.
24' to be exact is where I dropped the Belly to. I was fishing over water that was around 70 feet deep. I had only one line out as I was replacing the leader on the other line from the Lake Trout who had compromised it's integrity. I was deep in thought regarding the placement of the downed Belly, what to do and what depth to fish the next line once I re-rigged it, how will the wind behave if...wait a second...a slow tic, tic, tic of the baitfeeder. Freeze. Quiet. Shhhh...tic, tic, tic again. Now slowly it peels and stops. Don't touch it. Shut up, Mike, it's not a Brown....or is it? Slowly, another peeling of the line. I wonder if the fish knows it's me up here in this stupid tin boat...peel, peel, peel. Stop. Wait. Nothing. Shit. Gone.
ZZZZZZZZZZZZZZZZZZZZZZZZ!!!!!!!!!!!!!!!!!!!!!!!!!!!!!!!! There she goes! Pick up the rod, dummy!!
FISH ON!!!
After all the tell tale takes and all of the running "side to side" as all the great fisherman I know have foretold, she flashed a beautiful streak about fifteen feet down and I knew she was what I had hoped for. I got her close, maybe five feet down and ZZZZZZZZZZZZZZZZZZ!!!!!!!!!!!!!!!!!!!!!!!! this time on the first drag system. Boy, did she dive down. Now she's turning the boat! How big is this thing?? Up again and shaking her head...diving down again. Can I breath yet??
Finally, after the longest five minutes of my life, she was in the boat. If the stream trout made me grin then this thing made me smile like a big dopey puppy. I let out a "YEEHOOOOO!" or three as loud as one might imagine but probably louder than that. And then I let out a couple more as I gave thanks for the catch.
This trout, mind you, is by no means a monster but she is my monster at the moment. I have fished for most of my life with times of many years between trips and times of exciting fishing and plenty of skunks.
This is my most exciting catch. My "fish of a lifetime".
Until the next one. Boy, I'll tell you...these rivers and reservoirs...
I am a fortunate guy.